Home

/

WALLAS DIESEL HEATER 50 SPARTAN AIR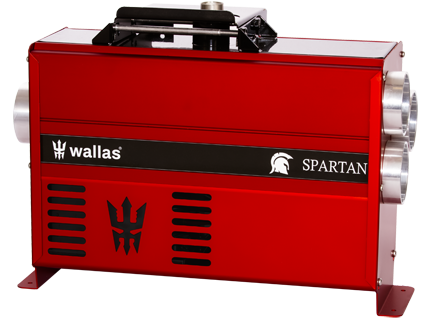 WALLAS DIESEL HEATER 50 SPARTAN AIR
Price:
$4,633.97 inc. GST
Description
Wallas Spartan Air-Diesel heater.

The Spartan Air is a 4500kw air heater which has several new features in the boat heater market. It works with diesel and HVO diesels and has greenboost laminar burners which burn diesel the effective and clean way.

Spartan Air is equipped with 3*75mm air hosing. With big air volume hosing and low resistant it will boost air dividing and saves energy. It will also muffle down sounds, level of air movement and gives you a more pleasant feeling in the boat.
Powerful 12 V Diesel Heater
Spartan Air offers the latest remote control features in the marine heater market, which makes it convenient for everyone to use. The Advanced Control Panel can be accessed remotely with a mobile app, which enables you to turn the heater on even from the comfort of your home. Wireless sensor monitors the indoor temperature with better accuracy and maintains a smooth temperature.
When you narrow down the best option for you, an important feature to consider is Spartan Air is equipped with three inlets. In comparison, Spartan Twin has two, and many other heaters in the market only have one. Multiple inlet hoses result in better efficiency and fresher air indoors. Both Spartan Series models are energy-efficient 4.5 Kw heaters – good options for medium-sized boats up to 12 m/40 ft.
Three Inlets and Outlets Improve Airflow and Efficiency
Three inlets take fresh air from outside and heated return air from the cabin. This improves efficiency and ensures oxygen rich air in the cabin.
Three outlets reduce power consumption and facilitate smooth distribution of heated air throughout the cabin. The bigger the cross-sectional area of the ducts are, the less it reduces airflow and makes the best use of the ventilation fan.
The Advanced Control Panel Gives You All the Info You Need with One Glance
COMFORTABLE -Open and closable air vents can be installed in the indoor space or on the deck for maximum comfort.
ACCURATE- Wireless sensor sends more accurate temperature data to the control panel to maintain a smooth ambient temperature.
FRESH- Fully enclosed laminar burning process does not leak odors into the cabin and dries the indoor air.
DURABLE- Brushless blower motors have a very long life-cycle, supporting reliably long service intervals.
The Greenboost burner burns renewable fossil-free diesel cleanly and energy-efficiently in addition to fossil based diesel fuels.
Three inlets improve fresh airflow and efficiency.
Combustion air is taken from outside the boat through the outer coaxial pipe.
Exhaust gas is safely expelled outside through the inner coaxial pipe keeping the indoor air clean and odorless.
Fully enclosed laminar burning process creates heat with no exposed flame and ensures a stable, wind resistant burn.
Energy-efficient Wallas Greenboost technology saves fuel and electricity.
Variable output eliminates system cycling and reduces noise.
Brushless blower motors have a very long life-cycle and require less frequent servicing.
Feeding fuel directly from the main tank of the vessel saves space and eliminates the need for a separate tank.
Durable Finnish design and manufacturing keep your heater intact for years.
Low temperature on unit and exhaust pipe improves safety.
Advanced Control Panel enables intelligent temperature control.
Wallas Remote App heater control works locally on boat with no WiFi by using short-range wireless connection.
Heater can be accessed from any location through a boat WiFi router with the Wallas App.
Wireless sensor monitors cabin temperature with improved accuracy.
Remote accessibility enables system updates and diagnostics.
Heater can be set up to operate with Yamarin Q-infotainment, Buster Q, and Askeladden C-command screens.
Fuel: Diesel, HVO renewable diesel
Power: 1400-4500 W (4,700-15,300 BTU)
Operating Voltage: 12 V
Fuel Consumption: 0,16-0,46 l/h (5.4-15.5 oz/h)
Electricity Consumption: 0,7-4,5 A
Air Volume at min Heat: 102 m3/h (60 cfm)
Air Volume at max Heat: 227 m3/h (133 cfm)
Length: 424 mm (16 11/16″)
Width: 165 mm (6 1/2″)
Height: 278 mm (10 15/16″)
Weight: 15 kg (33 lbs)
Mounting: Floor or wall
Boats: 9-12 m (29-40 ft)
Large Motorhomes (retrofitted): Ask your dealer
Trailers: up to 8 m (26 ft)
Heater
Advanced Control Panel, wire 5 m (16.4 ft)
Wired and wireless thermo sensors
Fuel line 4 m (13 ft)
Power cable 4 m (13 ft) with connector and integrated fuse 15 A
Mounting plate, feet brackets
Accessory bag including essential clamps and screws
Stainless Steel, High-Grade Aluminum, Other Corrosion-Resistant Materials
Recommended builds should be used as general guidelines. The needed heat output is based largely on the material (wood, fiberglass, aluminum etc.) and structure of the boat. Always discuss this with a Wallas distributor, before making your purchase.
Technical values are measured in a reference measurement wall, which is constructed to represent a typical boat installation. Values have been measured with maximum length of ducting, exhaust pipe, fuel line, and power cord. The figures allow for 10 % reserve – yours may vary.
Wallas diesel heaters are designed to run with standard road and boat diesel, as well as renewable fossil free diesel. Check with your distributor for further details on best options for your needs.