Home

/

MS-RA210 STEREO KIT WITH XS CLASSIC SPEAKERS (WHITE)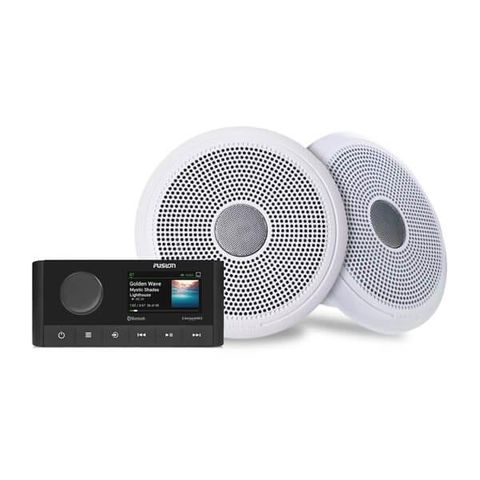 MS-RA210 STEREO KIT WITH XS CLASSIC SPEAKERS (WHITE)
Description
Fusion MS-RA210 and XS Classic Speaker Kit

MS-RA210 Stereo and XS Classic Speaker Kit Includes:
MS-RA210 marine stereo
One pair of XS Series classic white marine speakers
AM/FM stealth antenna
6 ft (2 metre) NMEA 2000® drop cable
Two 19 ft (6 metre) speaker wires
Dust cover
Wiring harnesses and mounting accessories
Mounting gasket
Four 6-gauge, self-tapping screws
Two screw covers
Power and speaker wiring harness
Auxiliary-in, line-out, and subwoofer-out wiring harnesses
12 Phillips stainless steel mounting screws (4.2 mm x 25.4 mm (8 gauge x 1″))
Enjoy your music ASAP. Your marine stereo and both speakers come ready to install.
Built-in Class D amplifier brings aboard higher efficiency and greater output.
Multi-Zone™ Technology makes you the captain of two separate audio zones.
Conveniently update software via Bluetooth technology from the Fusion-Link™ app on your compatible smart device.
Grow your audio system with compatible Fusion speakers, subwoofers and amplifiers.
Designed and engineered for the harsh marine environment, the Fusion stereos have an
IPX6 and IPX7-rated water-resistant
front panel to perform and last on board.
DESIGNED AND ENGINEERED FOR THE MARINE ENVIRONMENT
The Fusion speakers have an IP65 rating for protection against dust and water ingress and have been tested to a high level of protection against salt fog and UV.
MODERN DESIGN AND AESTHETICS
Tested to international standards for pressure and water ingress, the Fusion speakers are designed and built for superior quality and robustness.
QUALITY MATERIALS AND ACOUSTIC ENGINEERING
The Fusion speakers incorporate high-quality materials and marine-specific design elements, ensuring they look and sound great on the water.
Stereo Specifications

Physical dimensions (HxWxD)

MS-RA60: 2.68″ x 6.18″ x 4.06″ (68 x 156.9 x 103.2 mm)

MS-RA210: 2.68″ x 6.18″ x 4.99″ (68 x 157 x 126.6 mm)
Weight
MS-RA60: 11.1 oz (316 g)

MS-RA210: 12.4 oz (350 g)
Water rating
IPX6 and IPX7 (front panel only, when properly installed)
Power input
10.8-16 VDC
Operating temperature range
32° to 122° F (0° to 50° C)
Current (max.)
15 A
NMEA 2000® LEN
MS-RA210: 1 (50 mA)
Bluetooth® wireless range
Up to 30 ft (10 metres)
ANT wireless range
Up to 10 ft (3 metres)
Wireless frequencies/protocols
Bluetooth 2.4 GHz @ +12 dBm nominal


Compass-safe distance
5.9″ (150 mm)
Display
MS-RA60: 2.3″ perimeter bonded monochrome dot matrix LCD

MS-RA210: 2.7″ optically bonded colour LCD
Built-in amplifier
Class-D (minimum 4 Ohm impedance)
Peak power
MS-RA210: 200 W

MS-RA60: 180 W
Rated power output (4 Ohm)
MS-RA60: 22 W rms x 4 @ 14.4 V input < 10% THD

MS-RA210: 26 W rms x 4 @ 14.4 V input < 10% THD
Built-in Digital Signal Processing
MS-RA210: Yes (with preconfigured DSP profiles)
Fusion-Link™ control
MS-RA60: Yes (with smartphone and Garmin watch)

MS-RA210: Yes (with MFD, smartphone and Garmin watch)
Multi-Zone™ technology
2 zones
Bluetooth wireless technology
Yes
ANT wireless technology
Yes
SiriusXM-ready
MS-RA210: Yes (requires SiriusXM Connect vehicle tuner)
DAB+ ready
MS-RA60: Yes (DAB tuner built in)

MS-RA210: Yes (requires DAB100A antenna module)
NRX remote compatibility
MS-RA210: Yes
Multi-language interface
MS-RA60: Dutch, English, French, German, Italian, Spanish

MS-RA210: Bulgarian, Chinese (Simplified/Traditional), Croatian, Czech, Danish, Dutch, English, Finnish, French, German, Greek, Italian, Japanese, Korean, Norwegian, Polish, Portuguese (BR/PT), Slovenian, Spanish, Swedish, Thai, Turkish
Software updates
MS-RA60: Over-the-air software updates via Bluetooth wireless technology using the Fusion-Link app

MS-RA210: USB
Warranty
1 year
Sources
MS-RA60: AM/FM/Bluetooth/AUX x1/DAB+ (available in Europe and Australia only)

MS-RA210: AM/FM/Bluetooth/USB audio/iPhone/iPod/AUX x1/MTP/SiriusXM-Ready (USA only, requires optional SiriusXM Connect vehicle tuner)/DAB+ ready (available in Europe and Australia only)
Auxiliary input
One RCA input (AUX)
NMEA 2000
MS-RA210: 1 port
USB 2.0
MS-RA210: 1 port
SiriusXM satellite radio
MS-RA210: 1 port (requires SiriusXM Connect vehicle tuner, does not support traffic and weather)
AM/FM radio
One Motorola antenna connector port
Speaker
MS-RA60: 4 x speaker connections (2 zone amplified)

MS-RA210: 4 x speaker connections (2 zone amplified)
RCA Pre-out (left, right and subwoofer)
MS-RA60: 1 zone (requires external amplification)

MS-RA210: 2 zones (requires external amplification)
Line out
MS-RA60: Zone 1 (L + R, requires external amplification)

MS-RA210: Zone 1, Zone 2 (1 x L + R per zone, requires external amplification)
Subwoofer out
MS-RA60: Zone 1 (requires external amplification)

MS-RA210: Zone 1, Zone 2 (requires external amplification)

Speaker Specifications

Physical dimensions (HxWxD)
EL Speaker: 6.93″ x 2.32″ (176 x 59 mm)

XS Classic Speaker: 6.97″ x 3.19″ (177 x 81 mm)

XS Sports Speaker: 6.97″ x 3.27″ (177 x 83 mm)
Water rating
IP65
Configuration
EL Speaker: Full range

XS Speaker: Coaxial
Speaker size
6.5″
Peak power (Watts)
EL Speaker: 80 W

XS Speaker: 200 W
RMS power (Watts)
EL Speaker: 20 W

XS Speaker: 50 W
Sensitivity (1 watt/1 metre)
EL Speaker: 88 dB

XS Speaker: 91 dB
Frequency response
EL Speaker: 45 Hz-16 kHz

XS Speaker: 80 Hz-18 kHz
Nominal impedance
4 ohm
Recommended amplifier power (RMS)
EL Speaker: 20-40 W/Ch

XS Speaker: 20-150 W/Ch
Operating temperature range
32° to 122° F (0° to 50° C)
Voice coil diameter
EL Speaker: 0.79″

XS Speaker: 1.18″
Cone material
Polypropylene cone with cloth surround
Tweeter type
XS Speaker: Aluminium dome
Compass-safe distance
EL Speaker: 100″ (254 cm)

XS Speaker: 122″ (310 cm)
Warranty
EL Speaker: 1 year

XS Speaker: 3 years
Mounting diameter clearance
EL Speaker: 5.12″ (130 mm)

XS Speaker: 5.31″ (135 mm)
Mounting depth clearance
EL Speaker: 1.69″ (43 mm)

XS Speaker: 2.64″ (67 mm)
Sealed enclosure volume
XS Speaker: 0.28 cubic ft (8 L)